Legal US Poker States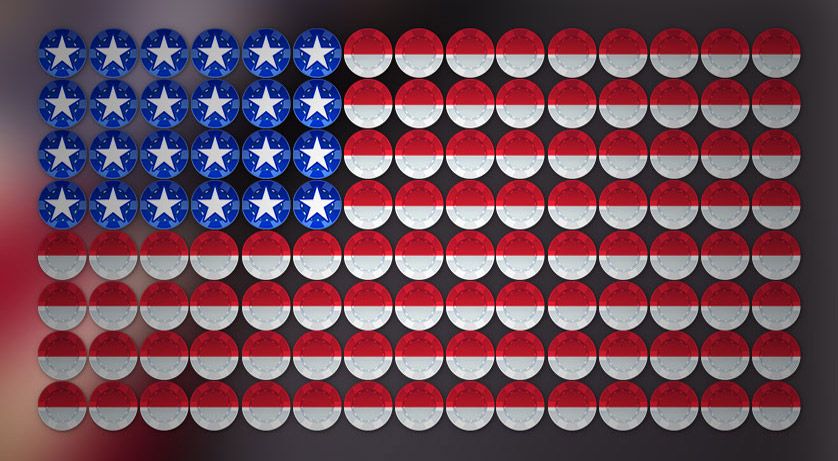 The legality of online poker, as played in the United States, isn't an entirely straightforward issue. Rather, it is one of those things that is known as a 'gray area' in the law. This article will help to address the questions, "is online poker legal in the USA?" and, "where is online poker legal?".
In many states, it is illegal to host a site that has people staking genuine money on poker games. Likewise, it is also illegal in most of those states to promote or profit off such sites. However, the vast majority of states do not prescribe any penalties for people who actually play online poker. Therefore, what many users do is play on offshore sites – sites hosted in other countries, where they are legally allowed to be hosted.
Four states are currently considered legal online poker states. These are Nevada, New Jersey, Delaware, and most recently, Pennsylvania. Presently, such sites only accept people from within the state, but this is expected to change at some point in 2018 to allow US players to pool together, with Pennsylvania required to 'catch up' in this agreement.
Many are surely hoping that this multi-state player agreement will come in time for the World Series of Online Poker tournament in June 2018.
Legal Online Poker in the USA – Where Is Online Poker Legal?
Is online poker legal in the USA? If you want to play online poker in the USA, then first you need to know what your state's laws are.
If you are currently, as of January 3rd, 2018, located in Nevada, New Jersey, or Delaware, and over the age of 21, you can sign on to an online poker site registered in your own state, while supporting an American company and being sure that you are doing the legal and right thing by paying the state-prescribed taxes and contributing to the local economy. Doing it this way will also allow you to have recourse for any disputes that may arise as a result of gambling.
If it is a state-recognized gambling site, then you know for sure that the site will keep your banking details safe, will offer fair odds, and will have to comply with the law. If you are in Delaware, there is only one online poker site specifically registered in-state, but you will soon be allowed to join Nevada-based sites when the multi-state agreement is finalized.
If you are located in Pennsylvania, you won't have long to wait before such sites are available in your own state, too. While opinions differ as to when online poker in Pennsylvania will actually be ready, and the Pennsylvania Gaming Control Board has a number of changes to implement in 2018 that will keep its staff busy, it is likely that online poker in Pennsylvania should be ready at some point in the second half of 2018.
If you are located in any other state, you don't currently have the option to contribute to your state's economy directly through gambling. However, it is most likely the case that you would like the same assurances as any poker player might want from a casino: that the odds of each of the virtual cards coming up are statistically fair, that the payment system is transparent and honest, that your bank card details are kept secure and never misused, and that there is no way for any of the gamblers to cheat.
Similarly, you may also want the opportunity to choose games that have decent bonuses on credit deposits, and to pay a fairly low drop on each hand. In other words, you wouldn't want to be restricted to sites that 'stack the cards against you' by design.
Finally, if you are the kind of poker player who likes to play to maximize earnings rather than play for fun, you may want to select a poker site that isn't known for its professional players, or one that keeps players anonymous to prevent professionals from harvesting data about individual players, or one that prevents players from playing in a large number of rooms at once, which would make professional players much more numerous across the network than amateur players.
If, on the other hand, you are one of the players who is new to the game, we recommend not playing too many hands at a time, don't overvalue your hand, and remember to change your play-style every now and then, among other tips.
In order to do this, you will need to choose from a list of poker sites that are verified and have good reviews left from their users. Do some online research about the site before joining, and talk to other people who have used the site. Ask them if payments are completed on time, if they have ever felt cheated, and similar questions. Over time, it is only logical that the best sites will 'rise to the top' because online poker rooms that have the best reputation will attract the highest number of players.
Three very highly rated offshore poker sites worth recommending are Bovada, Ignition, and BetOnline. The former two are illegal in New York, Maryland and Washington, so don't risk playing on either site if you are located there. However, BetOnline is presently legal in all states. Always be sure to check that you are not breaking the law before you play poker online.
All three of these recommended sites have controls and packages that prevent professionals from completely dominating the scene, because this would discourage newer players. Also, all three have bonuses and offer tournament play from time to time.
What Are the US Online Poker Laws at the Federal and State Levels?
Currently, there is no federal ban on users creating accounts and playing online poker for money, and for now, it is reasonable to imagine that there won't be such a ban any time soon.
If such a ban were instituted, there would be protests from at least the four states that have legalized it, which would end up costing a lot of money and taking a long time. There was a higher risk of such a ban being instituted in the past, but that risk is currently low, because online poker is gaining acceptance across states.
In 1961, the federal government passed its first major law about gambling, called the Wire Act. It made it illegal to use electronic transmission to facilitate sports wagering across state lines. In 2011, the Department of Justice decided to specify that the law did not apply to games that were not sporting events. This meant that laws pertaining to online gambling not involving sports betting were from then up to individual states to regulate.
In 2006, in an act pertaining to Internet port security, a bill called UIGEA was signed. It disallowed gambling companies from accepting transactions for the purpose of online wagering, and financial institutions were required to block such transactions, but players themselves were not subject to prosecution. In 2009 there was an attempt to regulate online gambling federally so it wouldn't be stopped by the UIGEA, but this attempt was not successful.
In April 2011, there was a huge push by the Department of Justice to indict owners of websites that hosted online gambling, under the UIGEA. Four large US-based online poker sites were implicated, and forced to close down. Many users lost all the money in their online wallets, although some of it has since been returned through fines to one of the companies, to at least 57,180 users so far. Some of the reimbursements are still being processed to this day.
The most well-known name in the push to prevent online gambling is Sands Corporation's Sheldon Adelson, who has a history of spending huge amounts of money to try to make it illegal again. In 2014, he formed the Coalition to Stop Internet Gambling, which tried to push for a bill called the Restoration of America's Wire Act, which would have changed the federal government's Wire Act to stop legal online poker in the USA, as well as other online gambling games. So far, all attempts to do so have failed.
Meanwhile, at the state level, many changes have occurred in the last seven years. 2011 was the year that many states took notice of the change in the Wire Act, which meant that it was up to them to regulate online gambling. Nevada and New Jersey were two states to take quick action.
Nevada was the first to create a bill to legalize online gambling, and New Jersey was very close behind. Eventually, Nevada had legalized online gambling by February 2013, continuing Nevada's reputation as a trailblazer in gambling. New Jersey followed in November 2013, and Delaware signed an agreement with Nevada in February 2014. Most recently, Pennsylvania has legalized and made provisions for online gambling as of October 2017.
Despite all these positive changes to laws, it is not especially easy to join an in-state poker game just yet, unless you are in Nevada, which is known as the top gambling state in the US, or New Jersey.
Which States Are on the Way to Legalizing Online Poker Next?
As mentioned, there are currently four online poker states. Taking everything into consideration, many believe that at least two more states will join this count in 2018. The states most likely to come on board in the near future include New York, Michigan and California. Let us examine what is happening in each of these states.
New York
The first bill that attempted to legalize online gambling in New York was put forward in 2014. Another bill was put forward in 2016, but it was not supported by the Assembly, for reasons of uncertainty whether poker constitutes a game of skill, and concerns over online site security and methods of possible cheating.
Legislation has recently surpassed the introductory phase. Assemblyman Pretlow intends to continue supporting online gambling legislation in New York in 2018, and so does Senator John Bonacic.
If you support the passage of legal online gambling in New York, contact your senators and representatives to let them know.
Michigan
In the last two years, there has been positive progress regarding online gambling in the state. One key difficulty, though, is in reaching agreement between tribal gambling and state gambling stakeholders.
Senator Mike Kowall introduced Senate Bill 889 to attempt to bring legal online gambling to Michigan in 2016, and it made some progress in the Senate, but never reached a full vote. There hasn't seemed to be major interest in online gambling from existing large casinos in the state so far.
SB 889 would have charged a $200,000 licensing fee and $100,000 yearly thereafter. There are currently three commercial and twenty tribal casinos in Michigan, so many licenses would need to be made available. If the tax rate were set at 10 percent of revenue, this could potentially bring in $14 million per year, as well as the licensing fees.
However, considering the growth of online poker in New Jersey, there is a possibility that even this could be a pessimistic forecast. The state is in need of the money, so we may see some positive news for Michigan online gambling yet.
California
There has been interest and support for online gambling from people since as early as 2008, but so far, not much progress has been made. There are many tribal gambling casinos, close to a hundred licensed card rooms, and there is a sizeable horseracing industry. So far, these stakeholders seem to be against online gambling, and have taken steps to prevent bills from advancing too far in the legislature.
There was an attempt in February 2017 by Assembly-member Jones-Sawyer in support of legalizing online poker, or at least to begin a conversation about doing so. Assembly Bill 1677 would prevent racetrack owners from gaining licenses, but instead grant them a stipend of up to $60 million per year.
Licensing fees would be $12.5 million for a seven-year period, and taxation on revenue would be variable based on the amount of revenue, ranging from 8.85 percent to 15 percent. However, the difficulty involved in getting all the larger stakeholders to agree has thus far stymied efforts at bringing legal online poker to California.